About Sun Barrier Products, Inc
Our experience in the Hurricane Shutter industry began in 1973, and we bring this expertise in engineering, research and development to your project, for peace of mind and quality shutter materials.
Sun Barrier Products, Inc. manufactures and installs all types of Hurricane Shutters, including Roll Down Shutters, Accordion Shutters, Bahama and Colonial Shutters, and also provide and install Crimsafe Screens and Storm Panels. Sun Barrier Products, Inc. also distributes and installs Energy Efficient Windows and Doors for replacement and new construction, including heavy duty series impact windows for hurricane protection.
Sun Barrier Products, Inc., a privately held Florida Corporation established in 1988, was founded by Charles T. Donaldson, who serves as Licensed Contractor and President.
Sun Barrier Products has dedicated the last 29 years to providing the best quality Hurricane Shutters and Energy Efficient Doors and Windows at a reasonable price. As the building codes change, our dedication to research and development keeps us on top of the industry so we can make sure our customers are getting the best protection possible. Contact us for a Shutter and Window consultation today! We look forward to helping you find the products that are right for you.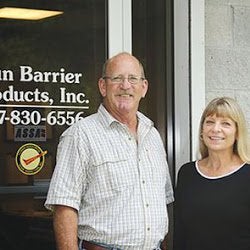 -Chuck Donaldson
Owner, Sun Barrier Products , Inc.