Bahama Shutters & Colonial Shutters in Orlando, FL
Bahama & Colonial Shutters Installed by Sun Barrier Products
At Sun Barrier Products, we offer Bahama Shutters and Colonial Shutters installation services for homeowners in Orlando, FL, and the surrounding communities. As a locally-owned business, we know that Florida's unique weather makes shutters ideal for helping you stay cool during the hot and humid days while protecting your home during storms. Since 1988, we have been at the forefront of shutter installation best practices. Our experienced team is committed to providing you with exceptional customer service and high-quality products. We currently hold an A+ rating with the BBB, so you can feel confident in our installation. Get started today with a free estimate for your shutter installation.
What Are Bahama Shutters?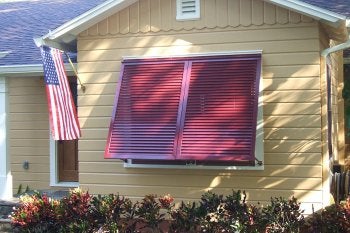 Bahama shutters add a beautiful tropical look to your home or office.  Our shutters come in a variety of colors, including white, ivory, beige or black. We also offer additional colors and custom color matching to your property. Bahama shutters are designed to manage the harsh heat we experience in Orland, FL. During the hot summer months, Bahama shutters will prevent sunlight from hitting the glass on your windows, which will help to keep your home's interior cooler. This will keep you and your family comfortable and lower your home's energy cost. When completely closed, Bahama shutters provide exceptional privacy for your home. Our Bahama hurricane shutters come with lock-down hardware, so you can safely and effectively protect your home or business during hurricane season. Our high-quality Bahama shutters attach with a top hinge and are supported with mill finish arms that are easily adjustable.
Different Types of Bahama Shutters Available
At Sun Barrier Products, we are proud to offer various residential and commercial Bahama shutters to meet your property's needs. All of our Bahama shutters are engineered using extruded aluminum with a baked-on powder coat finish to protect against corrosion. They are assembled using top-of-the-line shutter hardware to ensure your home is always protected.  If you're interested in installing Bahama shutters for your home or office, contact our team today to learn more.
Croix Full-View Bahama Shutter
The Matinique Bahama Shutter
The St. Lucia
What Are the Benefits of Bahama Shutters?
Bahama shutters installed by the experts at Sun Barrier Products provide home and business owners with a variety of benefits. Our experienced team is here to ensure that your installation is done quickly and properly so you can get the most from your shutters. Bahama shutters are:
An Affordable Hurricane Protection Option
Easily Adjustable for Privacy and Comfort
Available In a Variety of Styles and Colors
Find Your Custom Bahama Shutter Color Now! Www.Ralcolor.Com
What Are Colonial Shutters?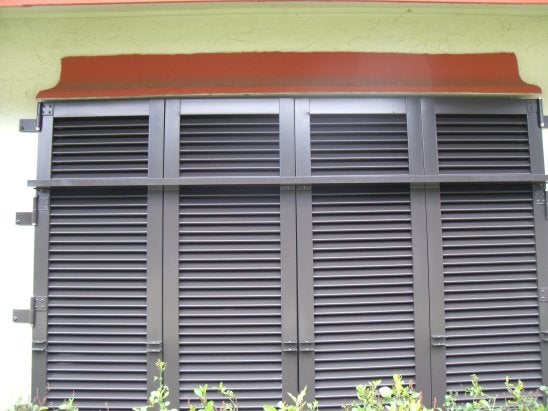 Colonial shutters provide a timeless style for home and business owners looking for something traditional without sacrificing privacy and protection. All Sun Barrier Products colonial shutters are manufactured from extruded aluminum and customized to fit any sized window or building. Colonial shutters are side-hinged so that they may be closed and locked in seconds. They utilize either a Z-style angle-closure or a horizontal locking bar to protect against hurricanes and storms. We also manufactured in a fixed style for decorations only. Our team of installers will ensure that your colonial shutters match the aesthetics of your home or office. Visit our showroom today for inspiration for your new shutters. We offer free estimates for all of our projects.
Different Types of Colonial Shutters
At Sun Barrier Products, we manufacture two types of colonial shutters for home and business owners. As a BBB A+ rated business, you can always count on us to provide you with exceptional installation services and a high-quality product that not only looks great but provides protection against hurricanes. Our team can help you choose the right colonial shutter type for your home or office that matches your needs and style. The styles we offer include:
The Cape Cod Colonial Shutter – Cape Cod colonial shutter offers solid black louvers and is available in single and double-fold. Removal angle brackets allow you to lock the shutters rapidly during a storm quickly.
The Nantucket Colonial Shutter – Nantucket colonial shutters are designed with open back louvers and are available in single and double-fold. Shutters lockdown with a removable exterior bar. This type of colonial is the easiest to close and lock and can even be installed on an opening with a precast concrete sill.
Find the Right Hurricane Shutter Installer
At Sun Barrier Products, we can help you find the right shutter for your home. We offer expert hurricane shutter installation, and our knowledgeable team can find the right shutter to improve and protect your home or office. For inspiration for your shutters, you can visit our spacious showroom. Contact us today to schedule your free estimate.