We Install Storm Panels in Orlando, FL
Protect Your Home from Hurricanes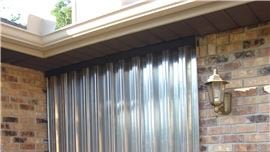 Storm panels are the most commonly used product to protect your home from hurricane protection. Sun Barrier Products offers storm panels for homeowners in Orlando, FL who want to protect their homes from severe storm damage. Our hurricane storm panels are made of corrugated aluminum, allowing them to weigh less while still offering sturdy protection. Our window storm panels have removable Snap Track hardware with fixed studs for panel mounting. We also offer a direct mount system for shutter attachment as well as a Header and Sill system. Our home hurricane protection experts can install your storm panels, so your home is protected from the next Florida storm. Get in touch with us today to get your free estimate.
Types of Hurricane Storm Panels
We offer multiple types of hurricane storm panels based on your needs, preferences, and budget. Our team can install the following hurricane storm panel types on your home:
Snap Track Hardware – Snap Track is the latest innovation in storm panel hardware. Designed for horizontal mounting, the extruded aluminum track features fixed studs for panel mounting and has a hinged extruded aluminum cover to hide the fasteners while not in use. The structure also creates stronger fastening for the panels. Studs that hold the panels are separate from the hurricane-rated fasteners that hold the Snap Track to the wall. When your hinged cover opens for shutter attachment, the cover also closes in the open corrugated end of the storm panels. The Snap Track features an attractive look when closed and can be painted. The hardware also features a decorative trim to make it more aesthetically pleasing. Homeowners also have the option of painting the exterior of the Snap Track to match their home's current aesthetic.
Removable Storm Panels – As the least expensive option to protect your home from hurricane damage, we offer removable storm panels. This shutter hardware is permanently attached to your home. When the area is under a hurricane threat, the precut panels are attached and anchored in place using wingnuts. The panels are made of corrugated aluminum to provide maximum strength while still being lightweight and easy to use. The smooth sides of these storm panels allow for shutter placement without worrying about cutting your hands. We also offer these panels in clear Lexan to provide light and visibility.
Direct Mount System – Another inexpensive version of storm panels is the direct-mount system. Shutters are attached horizontally using Panel mate fasteners. Panel mate is tapcon and has a threaded bolt at the end. Your tapcon will be secured into your wall's concrete, and the threaded bolt will protrude out to allow for the punched holes in the panels to go over them before the wingnuts are tightened onto the bolts. Plastic covers are used on the bolts while not in use.
Header and Sill – We use header and sill for vertical mounts for our storm panels. A top U-shaped header will be attached above the opening, with a bottom F-track attached below the opening. When your storm panels are installed, stainless steel square-head bolts will be slid into the track to create studs for the panels to attach to with wing nuts. We install header and F-track sill in one, two, and three-inch buildouts.
The Benefits of Hurricane Storm Panels
Storm panels from Sun Barrier Products are designed to protect your home from hurricanes. Orlando is known for its beautiful weather, but homeowners should be prepared in the event of a hurricane. Tree branches and other debris can be lethal when they're hurled through windows at tremendous speeds. Even if everyone escapes your home safely, there can still be plenty of damage to your property. Hurricane storm panels provide an extra barrier of protection to slow or stop airborne projectiles. In addition to keeping your home safer from hurricanes and extreme storms, our storm panels also offer additional benefits.
When Is the Best Time to Have Storm Panels Installed?
We often receive questions about our hurricane storm panels, and one of the most frequent questions relates to when homeowners in Florida should have storm panels installed on their homes. We don't recommend waiting until hurricane season to have your storm panels installed. The off-season for hurricanes is from December 1st to May 31st. Hurricane season happens from June 1st to November 30th. Of course, we don't recommend waiting until the end of May because we're likely to be busier at that time. Early in the year is often an ideal time to have storm panels installed, so you're prepared for hurricane season way ahead of time.
Why Choose Sun Barrier Products?
We know you have options when it comes to storm panel companies in Orlando. Sun Barrier Products is proud to be your local source for hurricane shutters. We've been providing our project expertise for home and business owners since 1988. We offer quality shutters, impact windows, and hurricane panels. You can always count on our experienced professionals for expert installation services. We install roll-down shutters, aluminum shutters, Bahama shutters, colonial shutters, and more. Our team members are standing by and would be happy to provide you with a free estimate. Contact us today to get started.