Storm & Hurricane Shutter Repair Services in Orlando, FL
Sun Barrier Is Your Leader in Storm Shutter Services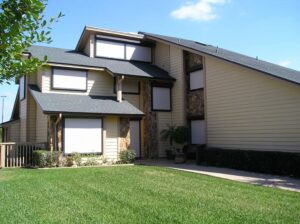 Since 1988, the team at Sun Barrier Products has been helping home and business owners improve their property's curb appeal and safety with storm shutter maintenance and repair services. Our professional contractors come prepared to quickly and efficiently handle all of your storm shutter repair needs. Whether you need repair for a single shutter or all of the windows for your home or business, our team can help! Don't trust the protection of your property, family, employees to just anyone. Trust the professionals at Sun Barrier Products. Contact us today to schedule your free repair and maintenance estimate!
Why You Should Choose Us for Storm Shutter Repairs
When you require high-quality residential and commercial storm shutter repair service from trusted experts in the field, you can contact Sun Barrier Products. Our team is ready to handle your storm shutter repair and maintenance needs. We are committed to keeping your home secure from the turbulent Florida hurricane season. Whether your shutters were made and installed by us or some other manufacturer, we can ensure they are properly repaired and maintained for your safety and security. Throughout the years, we have helped hundreds of home and business owners. They choose us because we're:
Family-Owned – Our employees live in the communities we serve, which provides us valuable insight into the types and severity of weather that Floridians experience. Our intimate knowledge of the area allows us to make specific recommendations about your property.
Fully Insured – As a fully insured business, you can feel confident in the work we perform to protect your home or office. Our team takes every precaution to ensure the repair and maintenance service is handled quickly by a highly trained professional.
Reliable – The best small businesses are only as good as their word. Since 1988, we have continued to meet and exceed our customers' expectations with dependable service that is delivered on time and within your budget!
Competitively Priced – We understand that homeowners want protection and privacy at a great value! That's why we offer competitive pricing for all of our maintenance and repair services. Our transparent, free estimates ensure you know how much your repair or maintenance will cost. No surprises. No upcharges. Just high quality at an affordable price.
The Importance of Repairing Your Storm Shutters
As a home or business owner in Orlando, Florida and the surrounding communities, you're already well aware of the destruction hurricane season can cause. At Sun Barrier Products, our team is here to ensure that your property's shutters are fully operational by providing repair, maintenance, and inspection services. It's important that you have your shutters maintained yearly for the best value and protection. There are a number of reasons to confirm your shutters are operating correctly.
Curb Appeal – While the primary responsibility of storm shutters is to protect your property from hurricane damage, broken and worn shutters may detract from the curb appeal of your home. With our repair and replacement services, we can help improve your home's look.
Property Value – Storm shutters are a significant value-add for any prospective homebuyer. They know that the home has been and will be protected from future hurricanes. Ensure that you have our team inspect your shutters before selling your home. You'll be glad that you did!
Protection Against Storms – Storm shutters are your home and business's best defense against property damage caused by hurricanes. Not only that, they help protect you against intruders in the storm's aftermath. Help keep you, your family, and your business safe with our repair services.
Prevent Further Damage – Depending on the condition of your shutters, they may expose your property to further water damage.
Storm Shutters We Maintenance
At Sun Barrier Products, we have repaired, maintained, and inspected a wide variety of storm shutters for both home and business owners throughout the area. Our team has decades of experience and has always been at the forefront of hurricane shutter service. Storm shutter maintenance isn't something to be taken lightly. Our team is prepared to offer you the best services and recommendations to keep your home, family, and business safe. Whatever type of shutter your residential or commercial property has installed, our team can help. We have repaired and maintained a wide variety of storm shutters, including:
Before Hurricane Season Begins
At Sun Barrier Products, we believe the best way to protect your property from hurricane damage is to be proactive. This will allow you to take an honest look at your storm shutters' quality to determine if you need a repair, replacement, or maintenance service. Don't delay! Follow these tips to ensure that you're prepared for Florida's hurricane season.
Locate Lockdown Hardware – Lockdown hardware sells out quickly during hurricane season, and without it, your shutters aren't as effective. Locate your hardware before the season starts or contact us for replacements.
Clear Pests – Oftentimes, mud daubers, a common wasp in Central Florida, will make nests in your shutters, preventing them from operating correctly when needed. By ensuring your shutters are clear of these pests, you'll prevent yourself from injury during an emergency.
Test Your Shutters — Before each hurricane season, take a few moments to make sure you can quickly and easily put your panels into place and close and lock each of your shutters. If it's been a while since you last used your shutters, they're likely to require cleaning and lubrication.
Find the Right Strom Shutter Repair Experts
Sun Barrier Products offers comprehensive storm shutter repair and maintenance services for property owners in the area. If you need affordable, reliable, and high-quality service, then contact us today to schedule a free estimate. We hold an A+ rating with the BBB, so you can feel confident in our ability to provide you with the best service in the area.
Contact us for your free estimate today!