Hurricane Shutters & Windows in Orlando, FL
Protect Your Home or Business from Hurricane Debris
Hurricanes and intense storms are a reality for those living in Orlando, FL, and the rest of the state. Protecting your family, home, and business from impending hurricanes is a top priority for many residents. While there's nothing you can do to stop a hurricane, you can mitigate its effects with hurricane shutters. The team at Sun Barrier Products is proud to provide a range of these products to keep debris, insects, and even intruders out of your home or business. Learn more about our many products that can be used for hurricane protection and security.
Why You Should Invest in Hurricane Shutters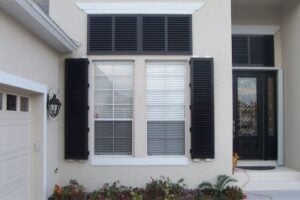 If you've lived in the Southeast for a while, you know hurricanes are a real danger. Preparing for a hurricane is one of the most important things you can do to reduce severe damage to your property. While no product can guarantee your home will be safe in the event of a major hurricane, you can reduce your risk of broken windows, shattered screens, and debris infiltrating your home. An investment in quality hurricane shutters is an investment in your family's security and protection!
Explore Our Range of Products
At Sun Barrier Products, we're proud to feature many top-notch products with which you can protect your home. You deserve the best for your property and family, so all our hurricane shutters are high-quality and proven to withstand damaging storms. Our selection of shutters and window coverings includes:
Accordion Shutters: This type of storm protection is ideal for your windows, doors, and patio. Made with interlocking blades, these shutters close quickly and easily for hurricane protection as soon as you need it. We can attach these shutters permanently to your home, so you never have to worry about reinstalling them when there's a storm on the horizon.
Bahama Shutters: Bahama shutters are useful for a wide range of needs. Not only do they act as security and protection from hurricane winds and debris, but they're also useful for keeping the outside heat from entering your home or business. What's more, these hurricane shutters are easily-adjustable, so you can increase your privacy, security, and climate protection whenever necessary.
Colonial Shutters: If you'd prefer a customized solution for security and hurricane protection, colonial shutters were made for you. These are designed with durability in mind and can be opened and closed at any point. Plus, they're available in a spectrum of colors to match the rest of your home or business.
Crimsafe® Screens: Crimsafe® screens are among the newest innovations in property security. Made with a stainless-steel mesh that looks like an insect screen, this durable hurricane protection solution can be used for doors, windows, patios, and balconies. Crimsafe® screens keep insects out while allowing the breeze in. Moreover, this screen is virtually impenetrable when it comes to hurricane debris and would-be thieves.
Roll-Down Shutters: Another customizable hurricane shutter, roll-down shutters are built to last with industrial-grade aluminum. You can roll these shutters up or down whenever you need to, and you can select a style that best matches your home. We provide roll-down shutters in white, ivory, beige, and bronze. Plus, you can also choose from motorized and manually-operated options.
Storm Panels: Looking for hurricane protections that won't break the bank? Storm panels are excellent choices. These removable panels are constructed from corrugated aluminum or clear polycarbonate, making for durable yet lightweight protection. Choose from directly mounting your storm panels or using the convenient SNAP TRACK system.
Benefits of Choosing Our Products
As you search for the ideal hurricane protection for your home, be sure to understand the added benefits of going with Sun Barrier Products. If you're working on new construction or a remodeling project, we can help you understand architects' plans and ensure you get the hurricane shutters and impact windows you need. Not only will we help you choose and install new hurricane shutters, but we're also your repair and maintenance team. It's a given your shutters will one day need minor repairs and maintenance work, so trust our fully licensed and insured company to take care of the hard work!
Get Your Free Estimate Today
At Sun Barrier Products, we want you to get the hurricane protection you need. We strive to make our products as affordable and accessible as possible for our Orlando, FL customers. That's why we're happy to write you a free, accurate estimate of your project's costs. Whenever you're in the market for new security measures or hurricane protection, you can trust our team. Contact us today for more information or to get your estimate.