Hurricane Roll Down Shutters in Orlando, FL
Hurricane Roll Down Shutters are a type of energy efficient shutters that can be adjusted depending on your needs. Sun Barrier Products offers these industrial-grade aluminum shutters in a variety of colors. You can choose whether to have your roll down shutters be manually-operated or motorized. These roll down shutters are very popular among homeowners and businesses alike because they can be used as a secure protection against hurricanes within the Orlando area.
Roll Down Shutters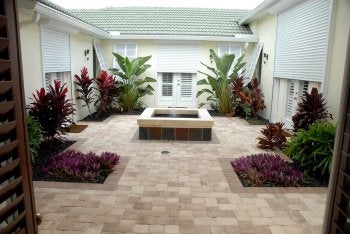 Roll shutters prevent storm damage, deter crime and protect your home like no other product. Sun Barrier Products manufactures and installs Extruded Aluminum Roll Shutters using high quality extruded aluminum components. The extruded aluminum slat is coated in an ESP baked on finish, preventing rust and corrosion; and is available in four standard colors, White, Ivory, Beige and Bronze.
Our many years of experience in design, production, and installation enable us to provide roll up shutters that are custom engineered and individually manufactured for your home or business.
Roll shutters are the most versatile of all types of storm shutters and security shutters. Exterior shutters are rolled up and out of the way when they are not needed, but they can quickly be closed down and locked when needed. Roll them down partially to allow ventilation and soft diffused light to come into the room; roll them down completely to provide total privacy, security and storm protection.
Roll Shutters For Hurricane Protection
When severe weather threatens, hurricane shutters can immediately be rolled down to form a solid, secure barrier to protect windows, doors and porches from flying debris, hail, high winds, and wind-blown water. Exterior shutters are engineered with a separation of glass; designed to protect the window/door glass underneath, even when the security shutters are hit with flying debris.
Our Extruded aluminum roll up shutters are engineered, tested, manufactured, installed and approved to meet or exceed new Florida Building Codes for Hurricane Shutters, including wind-load and large missile impact requirements; and are tested for positive pressure (exterior wind pressure) and negative pressure (interior pressure).
Because hurricane shutters can be deployed quickly and easily, they can be used to protect your home and family from any type of severe weather conditions that can create a sudden threat.
Energy Efficiency
Roll up shutters are made up of rows of specially designed slats, each double walled for insulation. When roll shutters are down, there is additional air space insulation between your window and shutter; resulting in a decrease in heat/cold transfer and noise reduction.
The day's hot sun can be shut out during the summer months by closing the shutters completely; or roll them down partially so the vent holes between slats are open. Roll shutters provide an additional layer of flexibility for your glass openings; allowing fresh air in while keeping out the heat, increasing the efficiency of your air conditioner and saving you money.
When the temperature drops in the evening, open shutters and let the cool breezes in. Roll shutters work similarly in the winter, by preventing the cold outside air from touching glass – and trapping heat inside that would normally escape through the windows.
How Are Roll Shutters Operated?
Motorization
Motorized shutters operate with a dedicated remote control; offering simple and convenient operation. A manual interior crank handle can be provided to offer a means of egress in case of power failure.
Sun Barrier Products offers a full line of technologically advanced motorized shutters that have controls such as individual/group control, timer switch, wind-rain sensor, and can interface with Smart House controls and Smart Phones.
Motorized shutters are offered at a number of price points and all include a 5-year manufactures warranty. With consistent care and correct operation, you can expect your motor to last well beyond the 5-year warranty.
Manual Operation
Shutters are outfitted with an interior gear, crank and handle assembly that allows operation with a simple cranking motion. The gears are spring loaded; allowing a heavy aluminum shutter to be operated with relative ease.
Contact us for more information about the different kinds of shutters, windows and doors that we offer.