Premier Windows & Doors in Orlando, FL
We Offer Energy-Efficient Windows & Doors
Sun Barrier Products provides premier windows and doors to customers throughout Orlando, FL, and the surrounding areas. While taking them for granted is easy, your home's windows and doors are your first line of defense against intruders, storms, pests, and much more. As such, you should invest in the market's best windows and doors. Our professional team wants to help you choose the best protection for your Orlando home or business, whether you're concerned about potential burglars or hurricane season. Our selection features a wide range of doors and windows, all designed with your safety in mind. Some are especially suited to keeping harmful ultraviolet (UV) rays out of your property, while others are built for durability without compromising aesthetics. Whatever your needs, rest assured Sun Barrier Products has the ideal windows and doors for your home or business.
Vinyl Windows to Keep Out UV Rays, Noise, & More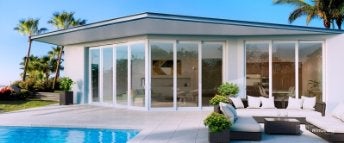 Among our most popular products, PGT® vinyl windows may be perfect for your property. These windows are made with only the highest-quality materials and have been tested to meet Florida State Product Approval. The vinyl frames are resistant to everyday wear and tear and stand up to cracks and rot. PGT® vinyl windows won't swell or warp and require virtually no maintenance. Furthermore, you can count on both beautiful finishes and energy efficiency. The double-pane windows keep the outside temperatures from entering your home, resulting in much lower utility bills.
Choose A Sliding Glass Door or French Door From PGT®
Sliding glass or French doors from PGT® are also an exceptional choice for added beauty and extra protection. Like their vinyl windows, these offerings are energy-efficient and help lower your energy bills. Their variety of sliding glass doors can be customized to match the style of the rest of your home, and you can choose from classic French doors or double doors to allow even more light. French doors from PGT® are made with integrated security hardware for your peace of mind.
Storm-Proof Your Entry Doors with ProVia® Products
We're glad to carry entry and storm doors from the ProVia® brand. This brand is trusted for high standards in manufacturing and top-notch products. When you choose a door from ProVia® for hurricane protection, you'll take advantage of unmatched durability, security, and energy efficiency. They boast over 50 models of aluminum storm doors, ideal for combination with hurricane shutters. Through this brand, you can find doors for nearly any use, from front doors to patio doors to retractable screens. Most of their collections come in various styles, colors, and hardware, so you can find one that matches your needs exactly. If you have questions about ProVia® products, reach out today.
Don't Compromise on Aesthetic
When you choose a storm door or window from Sun Barrier Products, you won't need to compromise on aesthetics or function. Many of the products in our inventory are customizable to your specifications. Want to keep with the classic, rustic style of your home? We have hurricane shutters and doors to match. Prefer something sleeker and more modern for your place of business? We can accommodate your needs for contemporary styles as well. Whatever your aesthetic needs are, we can meet them.
The Sun Barrier Products Difference
Sun Barrier Products works to make choosing a storm door and windows easy. Our expert team can help you choose from a wide array of products and even assist with reading and making sense of an architect's plans. If something goes wrong with your door or window after installation, we can provide repair and maintenance services. We understand storm and intruder protection is of the utmost importance, and we make every effort to keep your doors and windows working correctly.
Quality Installation of Replacement Windows & Doors
Customers of Sun Barrier Products know they can rely on us when it comes to window replacement services. We never compromise on the style or durability of our products. We understand the importance of protecting our clients, their home, and their belongings. Not only do we offer hurricane windows capable of withstanding Florida's unpredictable weather and strong winds, but they are also aesthetically pleasing. Additionally, we offer non-impact and vinyl windows, among other options. In addition to window-related services, we also specialize in entry door replacement. We offer a wide range of new front, French, patio, and more front doors.
Why You Should Invest in Energy-Efficient Windows
Have you ever asked yourself, why should I invest in energy-efficient windows? Well, you aren't the only one. More and more Orlando homeowners are replacing their regular windows and installing energy-efficient ones professionally. The windows we sell include a wide variety of energy-efficient features, including insulated glass, specialized coatings, glass pane spacers, and optional argon gas fills for added insulation. Some of the benefits of investing in energy-efficient windows include:
Increased Comfort – There tends to be a lot of heat transfer when it comes to older windows, and heat transfer tends to make one's home feel drafty. With energy-efficient window installation services, you can rest assured that your home will stay warmer in the winter and cooler in the summer, helping enhance your overall comfort.
Reduced HVAC System Strain – With energy-efficient windows, your HVAC won't have to work as hard as with regular windows that allow for a lot of heat transfer. Ultimately, the reduced HVAC system strain will even lead to potential savings on your energy bills.
Decreased Condensation – Condensation buildup on your windows can be frustrating, and when that condensation turns to frost, it can make a home feel colder than what is comfortable. With a special coating included with energy-efficient windows, the likelihood of them being affected by condensation buildup is immensely reduced.
Contact Sun Barrier Products for Window & Doors
If you're ready to invest in hurricane safety for your Orlando home or business, Sun Barrier Products has everything you need. Our expert team can help ensure that your property is protected against storm debris, intruders, UV rays, and more. We offer window treatments for sliding glass doors and so much more. We can walk you through your windows and doors options, explaining each model's benefits. We want your property to be as safe as possible, so don't hesitate to reach out with your questions. Contact us today, and we'll provide you with a free estimate.