Storm Panels vs. Accordion Shutters
Protect Your Home from Hurricanes in Orlando, FL
When it comes to protecting your home from hurricanes, you have choices. Sun Barrier Products installs storm panels and accordion shutters for homeowners in Orlando, FL. We want to help you better understand whether storm panels shutters or accordion window shutters would be better for your home. Living in Florida means you are susceptible to storm damage, and protecting your home is a worthwhile investment. Our experts are here to help you learn more about the types of hurricane shutters we install. Don't hesitate to get in touch with us if you have any questions or would like to request an estimate for hurricane shutter installation.
About Storm Panels
When comparing storm panels to accordion shutters, let's start by taking a closer look at your first option. Storm panels are made of aluminum or steel. These hurricane shutters are attached directly to the wall around your window using tracks or bolts. The metal is often corrugated with pieces overlapping to provide maximum strength and durability.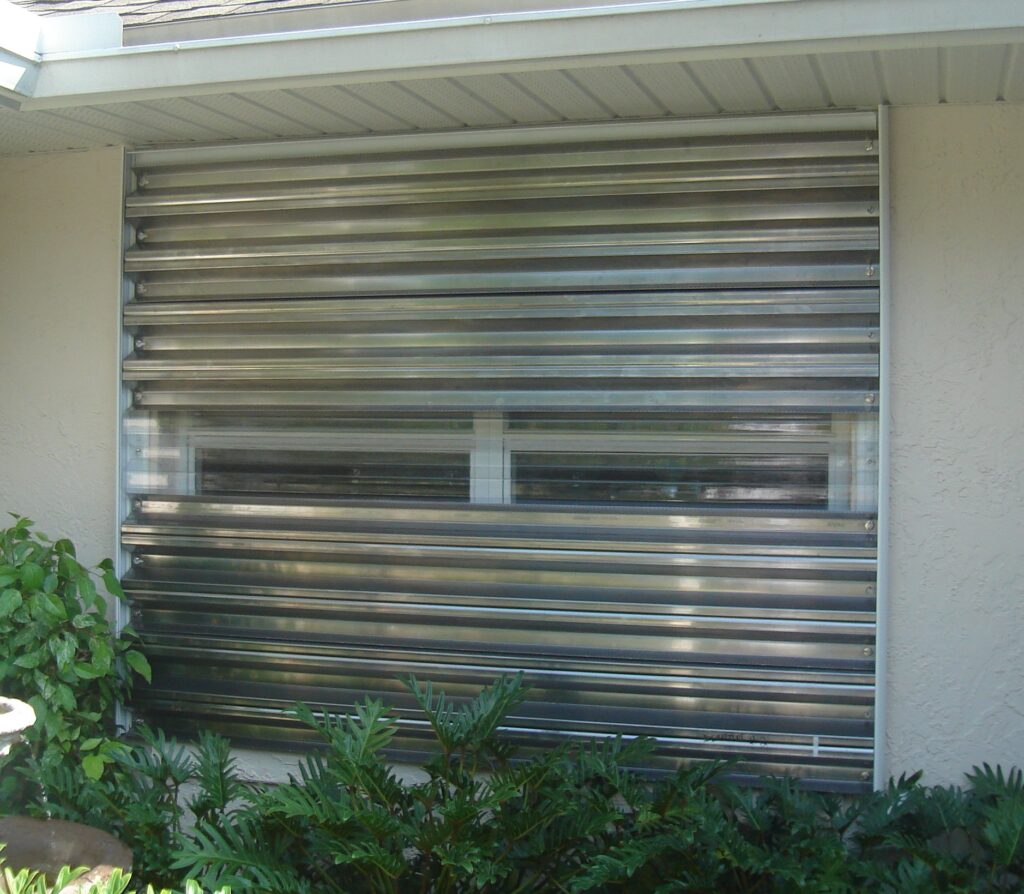 The Pros & Cons of Storm Panels
One of the biggest pros to choosing storm panels is that they are the most affordable hurricane shutter option. Storm panels are removable, so they do not change the aesthetic of your home while not in use. Storm panels are durable and robust, so you can rest easy knowing your windows and doors will be protected. This choice is available in many different types, such as storm panels that use tracks, are bolted to the wall, or include both bolts and tracks. Storm panels can easily be removed. As for the cons of storm panels, they require storage when they are not being used. You need ample storage space indoors because storing storm panels outside means they might rust. Storm panels are pretty large, so they can be challenging to hang due to their weight. Installation sometimes takes more than one person, and the panels must be handled with care because they can have sharp edges. At times, storm panels may not line up correctly.
About Accordion Storm Shutters
Now that you're an expert on storm panels, it's time to take a look at accordion shutters. These hurricane shutters provide lifelong protection for your windows, doors, and other areas of your home. As one of the most popular types of hurricane shutters in Florida, accordion shutters are available in one- and two-piece configurations. These shutters can unfold like an accordion and be stored on one side of the outside of the window frame.
The Pros & Cons of Accordion Shutters
When you have accordion shutters installed on your home, you won't have to worry about the size of your windows because they can be installed over any length and width. You can have your accordion shutters installed so they roll to the right or left or open from the center. These hurricane shutters are easy to install and remove, even on your own. There's no extra storage space required, and your accordion shutters can be secured with locks. Other advantages of accordion shutters include being made from high-quality aluminum and stainless steel, covering entire balconies, and offering maximum hurricane protection. Just like storm panels, there are also disadvantages to having accordion shutters installed. When it comes to the cons of accordion shutters, sometimes they look bulky or out of place, depending on your style of home. Accordion shutters glide on wheels, so sometimes, the mechanical parts will break down and fail. These hurricane shutters are also a bit more expensive than storm panels.
Why Choose Sun Barrier Products?
Whether you prefer storm panels or accordion shutters, the team at Sun Barrier Products provides the best hurricane shutter installation services in Orlando. Proud to serve local home and business owners since 1988, we offer a complete line of products and services, including security shutters and screens, entry doors, impact windows, and more. Contact us today to find out which option is best for your home.